There aren't many times that are quite as special as a baby's first Christmas. From choosing the perfect presents to picking out an adorable holiday outfit, it's a time when lifelong memories are made.
And for many families, the holiday season wouldn't be complete without a visit to Santa!
Getting baby photos with Santa is a lot of fun, but the unpredictable mood of your baby may also make it difficult to get that perfect picture.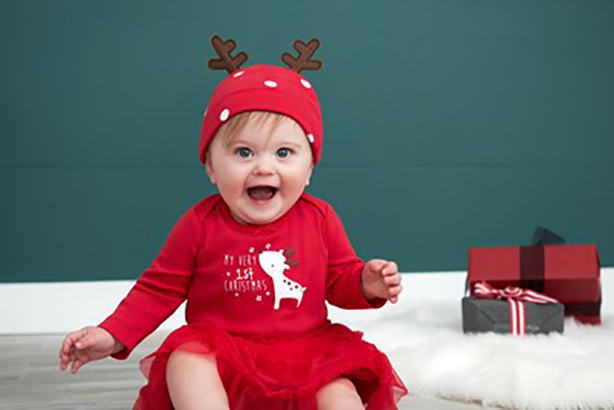 Use these tips to help you get a Santa photo you'll treasure for a lifetime.
Find the Right Holiday Baby Clothes
When you take the time to put together a fun outfit, your little one will look as festive and spirited as Santa.
There are plenty of cute baby girl clothes and baby boy clothes with a holiday theme. And keep in mind, babies can wear these outfits again when they attend family parties or take group holiday photos.
Prefer to go formal? For baby girls, consider an elegant holiday dress in a jewel tone like emerald or sapphire. Match it with baby shoes in black, gold, or silver. Ruffled socks or tights will keep your infant warm while adding even more sophistication and style.
Baby boys can wear crisp, neutral dress pants with a long sleeve button-down shirt or bodysuit. Finish the look with suspenders or a bow tie, as well as warm, thick socks and matching dress shoes. Or, go all-out with an adorable baby tuxedo!
If you prefer to go for a more fun look, consider creating your own DIY elf costume. All you need to start the look is a long-sleeve blank bodysuit with striped leggings.
Then, add red or green socks and warm, cozy baby shoes. Sew a pompom or some gold detailing onto a pointed cap to complete the ensemble.
Colorful corduroy pants and overalls are perfect for rustic holiday photos, while festive footed pajamas with matching caps are sweet and cozy enough for newborns.
If you are a fan of the bodysuit, Gerber® Onesies® bodysuits come in cute designs for every occasion. Along with seasonal designs featuring artwork made with screen print and puff print, comfortable ribbed cotton will keep your baby feeling great during pictures.
Show Your Baby Pictures of Santa
By showing your baby pictures of Santa, you can help them feel more comfortable in his presence.
While this can be useful in preparing for photos, it's also important to remember that your child's ability to see and understand the photo session will depend on their age and unique stage of development.
Keep in mind most newborns can best focus on an object when it is about 8-10 inches away from their face. They also have limited color vision.
When it comes to remembering people's faces, The Harvard Gazette says that most infants will not have long-term memory until after they reach their first birthday. After a few months, your child will get better at seeing and remembering objects.
In the meantime, show our little ones Santa in the days leading up to the photos, as well as the day that you are going to take the pictures.
If your child is a little older, consider taking them to see Santa for a trial run. Knowing your infant's comfort level will help you to better prepare for photos.
Find the Best Time to Take Pictures
Stores and malls tend to be loud and busy during the holidays. By finding a quiet time to take pictures, you can help to keep your baby from getting overwhelmed and cranky.
And as a bonus for parents, a slower schedule also keeps you from feeling stressed. Search online to see when the store's lower-traffic hours tend to be.
In general, you'll likely see less people in stores on weekday mornings, especially earlier in the week. You can also try visiting the stores as soon as they open.
Avoid weekend afternoons, as most places will be full of children and their parents.
Alternatively, try to find a smaller venue for Santa photos. Restaurants, non-profit organizations, and community groups often hold Santa meet-and-greets during the holidays.
Stay Upbeat and Calm
There is always a chance that your baby will be miserable about their first visit with Santa. In that case, no worries!
If needed, consider joining in the photo yourself. Put on your favorite festive outfit, and hold your baby while sitting beside Santa to create a more peaceful environment for your little one.
And even if you can't get that perfect smiling shot, the final picture may still be one that you treasure.
An Adorable First Picture with Santa
It might take a bit of effort to get those first perfect baby pictures with Santa, but it can definitely be worth it!
Not only are the photos a great festive addition to your holiday decor, they're something you'll treasure for years to come.
So, pick that perfect outfit, get your little one used to the idea of meeting Santa, and head out to capture some memories!