Planning the ultimate kids party can be a great experience, but it can also be exhausting! There are a lot of moving parts to organize, not to mention a crowd of youngsters to keep entertained.
But taking the job step by step can help make any party a roaring success. If your child's birthday is coming up, use these 7 birthday party planning tips to help you throw the best kids party ever:
1. Make a Plan
The most important starting point of planning any party is to create a basic outline of the party to help you remember all the essentials.
Jot down the categories you'll need to plan, including invitations, entertainment, and food. Then, start deciding on the details for each category.
Having a schedule worked out ahead of time will help you to work step-by-step through the planning process, so that you don't forget anything, and don't end up overwhelmed.
2. Set a Budget
The cost of any party can quickly get out of control if you don't set a budget, first. Make sure to sit down and go through your monthly income and expenses to help you decide how much you want to spend.
Keep in mind that a successful party doesn't have to cost a fortune! A homemade cake and games in the back yard are inexpensive and always a hit with kids.
3. Arrange Entertainment
A good children's entertainer can take a lot of pressure off of you during a kids party. Professional entertainers are trained to keep kids engaged and having fun.
And having an extra adult in the house, especially one that's experienced with kids parties, can make the whole event run smoother.
When you hire entertainment organizers for the party, you'll be freeing your time to help manage the food, games, and other party essentials.
4. Send Invitations
When deciding who to invite to your child's birthday, keeping things small is usually a better option. A popular guideline is to invite one guest for each year of your child's age.
If you do decide to host a larger party, don't be afraid to reach out to friends and family and request a bit of help managing the kids. The more adults, the better!
Plan to send invitations about a week prior to the party date, and follow up with anyone that hasn't responded about two days beforehand.
5. Keep It Short
One of the most important ways to ensure that a kids birthday party is successful is to make sure that it doesn't run too long.
For most age groups, two hours is more than enough time to play games, open presents, eat some snacks and enjoy the entertainment.
Cutting a party a little short is a much better decision than planning one that runs too long. There's nothing worse than trying to keep a big group of bored children occupied!
6. Simplify the Menu
There are a few reasons to keep the food simple for a kids party, but the main reason is one any parent will understand…kids can waste a lot!
Limit the food to easy-to-grab snacks and finger foods in small bowls that you can refill as needed. It's much more economical than planning a whole meal, and encourages kids to only take what they're going to eat.
And consider cupcakes or ice cream cones instead of a large cake to minimize mess and avoid having a bunch of leftover dessert.
7. Choose a Location
Depending on the age of your child and the activities you have planned, you may not want to host a party in your home.
One of the advantages of booking a party at a private location is that many of them provide entertainment or activities as part of their services.
Consider gymnastics clubs, trampoline parks, or even a movie theatre. Most venues will provide an hour of entertainment followed by the use of a private room for enjoying cake and presents.
Another option worth considering is simply celebrating in your own backyard. Since it's a more affordable option, you can often splurge a little more on decorations.
For instance, consider having custom tailored inflatables or balloons made especially for the special occasion.
A custom inflatable bouncy house is a great way to keep younger kids entertained, since they can bounce, slide, and play inside depending on the your chosen design!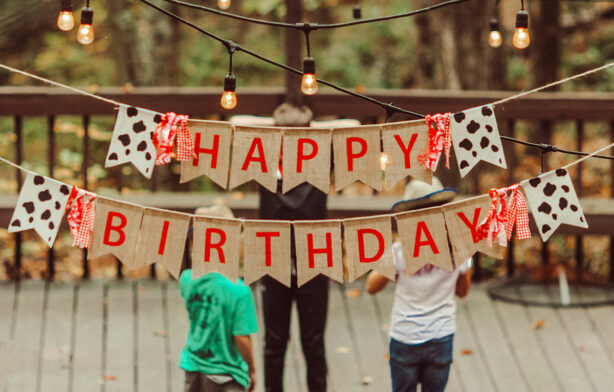 No matter how old your child is turning, throwing a successful kids birthday party doesn't have to take a lot of time and money.
As long as there are fun activities and good food available, your child and their friends are sure to have a great time celebrating together.