When it comes to functional home decor, stylish bar stools are one of the most popular additions to many spaces.
Not only do they offer additional seating, they're available in a wide variety of styles that can instantly upgrade the overall look of a room.
Said to have originated in ancient Egypt, bar stools were originally used as seating for artisans and peasants. But the simple wooden stool soon became more elaborate and decorative.
Now, bar stools are an essential piece of furniture for many families, and can be used for everything from seating at a kitchen island to decor in the living room.
If you're planning to add some new bar stools to your home, you may have already realized there are a lot of different styles available.
To start narrowing down your choices, consider one of these four stylish bar stool features:
Half/Low Back Bar Stool | Armchair/Armless Bar Stool | Swivel Bar Stool | Adjustable Height Bar Stool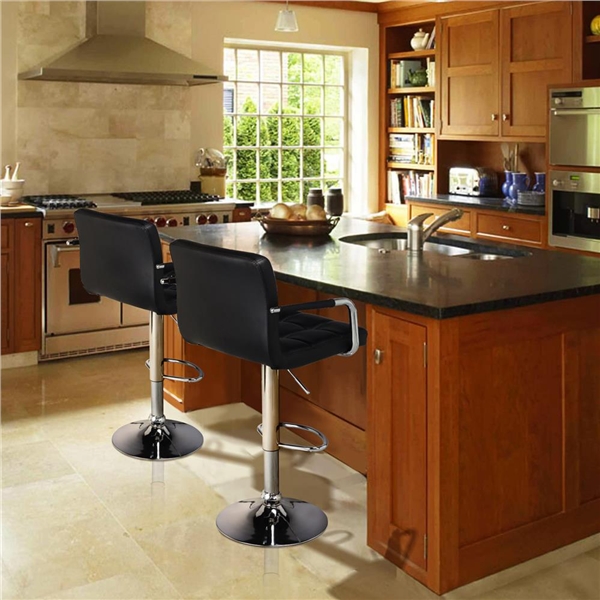 Distinguished by the height of the backrest, bar stools offer different types of half-back, low-back, and no-back designs.
The bar stool with backrest is very similar to a regular chair in shape, but differs in height.
The proportions and higher backrest make it suitable for almost everyone, and a bar stool with a design like this one might be a great choice for upgrading your kitchen.
The half-back bar stool has a relatively low backrest, but is still quite comfortable. Often made of rustic wood and metal, these stools are both unique and attractive, making them a perfect choice for modern homes.
A low backrest bar stool is generally designed with a backrest that's intended to be more decorative than functional, since the lower profile doesn't provide much back support.
These low backrest bar stools can be very versatile and often make stylish decor pieces in a living room.
For small spaces, a backless bar stool is the best choice. With no backrest at all, it's better able to fit in smaller areas and can be tucked under the countertop when not in use.
Armchair bar chairs are designed with curved armrests on both sides. These types of bar stools are great for use at home with children because they are surrounded by the stool on all sides, reducing the potential for slips and falls.
In addition, compared to bar stools without arms, armchair bar stools tend to have a more formal feel and are a great choice when you want add a high-end look to your space.
Low or high back bar stools will often also have arms in their design, creating an enclosed space when sitting on the stool and increasing overall comfort.
They are often a little larger than other types of bar stools, so if you choose these, you may have to reduce the number of stools your bar or kitchen can accommodate.
Ideally, try to find a stool with armrests that are still low enough to be tucked under the counter or bar when not in use, to help maximize your floor space.
While they are usually more comfortable, bar stools with armrests do have drawbacks, as they usually can't be stacked up and can take up more space when being stored.
Swivel bar stools have a mechanism that lets the seat rotate 360°. You don't need to move your feet to pick up items or talk to people, making these stools very useful when entertaining.
The ability to swivel means you can easily turn your seat to face different people or see in different directions without having to get out of the chair.
A swivel bar stool is a great casual seating option, making it perfect for a rec room or home sports bar. However, they can be dangerous for small children, so consider who will be using the stools before deciding on a swivel bar stool.
Bar stools with adjustable height seats are a popular choice, allowing for different height experiences by simply lifting the handle under the seat.
Adjustable seat heights mean that this type of bar stool can be used with any height bar, so they are an especially good choice if you are looking to use them in different areas of your home.
Adjustable bar stools also offer comfort for people of different heights, because everyone who uses the stool can adjust it to a level that fits their body.
Height-adjustable bar stools first became common in restaurants and drinking establishments, but they are now also a popular choice for home areas including breakfast bars and kitchen islands.
While these four features are ones you'll want to consider when deciding on the perfect bar stools for your home, many bar stools will offer multiple functions in their design.
For example, many swivel bar stools also offer height adjustment and arms. So, decide which features are most important for your space, and then choose a stool that offers the functions you need.
About Yaheetech
Yaheetech, established in 2003, is a professional brand specializing in home and office furniture.
With 39 warehouses worldwide, they deliver a wide selection of quality furniture products within 3 days locally and offer a no-questions-asked 30 day return policy.
Operating markets in 10 countries covering Northern America and Europe for more than 15 years, Yaheetech has successfully become an industry-leading furniture brand with 1.9 million global sales.
Through continuous effort, the company has earned Best Seller among Furniture Supplies on over 10 online shopping platforms, including Amazon, Walmart, eBay, Wayfair, Wish, Cdiscount, ManoMano, OTTO, Rakuten, Real and more.
When you want to upgrade the look of your home or office, these products are a great place to start your search.