One of my favorite things about cooking is discovering recipes from other countries, and Solyanka soup is the perfect example of that.
This famous soup is popular in both Russia and Ukraine, and is a hearty dish with a smoky and sour flavor.
There are meat, fish, and vegetable (usually mushroom) versions of Solyanka, but the meat-filled version is by far one of the most popular.
The distinctive salty and sour flavor of the broth comes from the vegetables that are added to the dish, which include pickles and olives. Paired with at least three types of meat, it's a hearty, filling meal when served with crusty bread on the side.
In Russia, Solyanka soup generally features a beef broth as its base. Any variety of meats can be added to it, including ham, bacon, sausages, and chicken.
In fact, in the past, the dish was often made with Russian Doctorskaya, a boiled Bologna-type sausage. This was probably due to a shortage of higher-quality meat during the Soviet era.
History of Russian Sour Soup
Like many popular recipes, the exact origin of this delicious soup and how it got its name is unknown. Some people claim the soup was originally called Selyanka, essentially a "peasant's soup."
Others say that the name is derived from the Russian word for salt, as the preserved vegetables and meats in the soup do make it quite salty.
Regardless of the soup's exact origin, one thing is certain. While there are endless variations of this popular Russian soup, all of them feature a sour and salty broth that sets it apart.
The First Mention of Solyanka
The first known mention of Solyanka was found in the Russian book Domostroi, a household bible of sorts that was published at the beginning of the 15th century.
It was often served as an appetizer before the main meal, and was a renowned hangover cure among many thanks to the heavy concentration of salt and fat in the dish.
Making Solyanka Soup
While making Solyanka isn't hard, it does take a bit of time, especially if you plan to make the beef broth from scratch.
If you prefer, you can substitute canned or ready-made beef broth for the homemade broth to streamline the process.
Using a food processor to chop the vegetables is also a great option for putting this soup together quickly.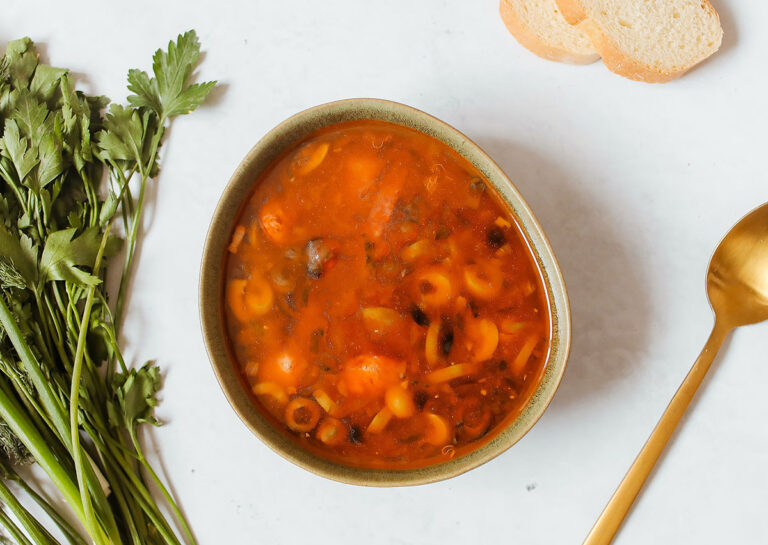 How and When to Eat Solyanka
As with most soups, Solyanka is traditionally eaten in the winter. This is partially because the preserved vegetables used in the soup were often the only vegetables available in winter, and partially because it's a hot and hearty meal on a cold day.
This authentic Russian soup can be eaten as an appetizer or main course. It, like many Russian soups, is usually served with sour cream and chopped herbs on top.
This popular dish can be found in Russian restaurants, and frozen in Russian supermarkets for those who don't want to make their own soup.
But you may just be surprised at how fun it is to make it on your own, especially once you try the appealing combination of smoky, spicy, and sour flavors for yourself!
Looking for other soup recipes? This Vegan Lentil Vegetable Soup is a great lighter soup choice!
And if you're in the mood to try even more dishes from other countries, this samosa recipe from India is sure to be a hit, too!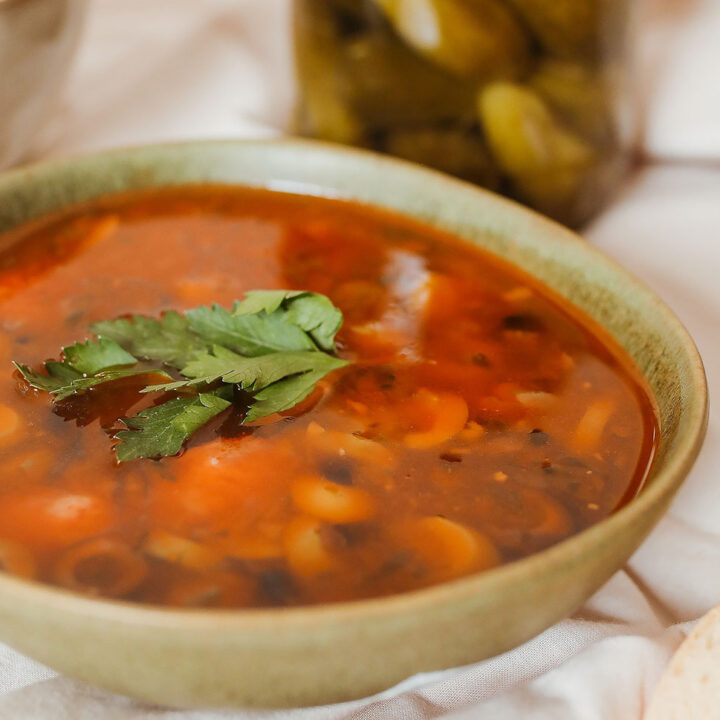 Meat Solyanka Soup Recipe
Cook Time:
1 hour
30 minutes
Total Time:
1 hour
40 minutes
This traditional smoky and sour soup is popular in the winter in Russia and Ukraine.
Ingredients
Beef Broth
1 1/2 lbs (700g) stewing beef
1 medium onion, quartered
1 medium carrot
1 celery rib
1 clove of garlic
8 cups water
Solyanka
2 tbsp. vegetable oil
1 medium onion, chopped
1 medium carrot, chopped
3 dill pickles, chopped
1 tbsp. tomato paste
1 tsp. paprika
1 tsp. coriander
1/2 tsp. black pepper
1-2 pinches Cayenne pepper
1 lb various smoked meats (bacon, ham, sausage, etc.), chopped
1 can diced tomatoes
1/4 cup brine from dill pickles
10-15 oilves
1/2 cup brine from olives
Sour cream, fresh herbs, and lemon, to serve
Instructions
For the Broth
Combine all broth ingredients in large pot and bring to a boil.
Reduce heat until liquid is at a simmer, and cook for approximately 1 hour, until meat is tender.
Remove vegetables from the broth and discard. Break or cut beef into small pieces and return to broth.
For the Solyanka
Heat a large skillet over medium heat. Add the vegetable oil.
Add carrot and onion to skillet and sauté until tender.
Add chopped dill pickles and sauté for a couple of minutes, until pickles are soft.
Add tomato paste and spices along with a splash of water, and cook until fragrant, 1-2 minutes.
Add smoked meats and cook for about five minutes, until everything is combined and meat is heated through.
Add the smoked meat mixture, diced tomatoes, pickle brine, olives, and olive brine to the broth in the large pot.
Heat over medium heat until simmering.
Serve topped with sour cream, sliced lemon, and chopped herbs.
Notes
If desired, six cups of beef broth can be used instead of homemade broth. In this case, cook stewing beef just until tender.
Nutrition Information:
Yield:

8
Serving Size:

1
Amount Per Serving:
Calories:

239
Total Fat:

14g
Saturated Fat:

4g
Trans Fat:

0g
Unsaturated Fat:

9g
Cholesterol:

67mg
Sodium:

278mg
Carbohydrates:

7g
Fiber:

2g
Sugar:

3g
Protein:

21g