Are you having trouble finding clothes that fit your body type? Do you feel like you can never find anything that looks good on you? You're not alone!
With so many different body types and so many different clothing styles to choose from, it can be hard to know where to start when you want to put together a great-looking outfit.
But, learning to choose outfits that compliment your build can actually be surprisingly easy.
So, whether you have a pear-shaped figure or an hourglass shape, use these fashion tips for women's body types to help you choose clothes that will have you looking and feeling great!
Pear-Shaped Figure
One of the most common body types is the pear-shaped figure. Women with pear-shaped figures generally have a more petite upper body and a larger lower body.
The key to choosing clothing for this type of female body is balance. You can balance a heavier lower half by focusing on accentuating your upper body.
This can be done by choosing tops with vibrant patterns, or tops that have extra volume. Ruching, puff sleeves, tops with horizontal stripes, and ruffles are all ways to help draw the eye upward to your top half.
As for bottoms, fitted pants with a flared hem and skirts in solid colors will help minimize a heavy lower half and create a balanced look.
Flared dresses and skirts are a great choice for a pear-shaped figure as well, since they created definition at the waist and help balance the upper and lower body.
Darker colors and vertical stripes are the best options for pants and skirts, as they'll help create a slimmer silhouette. Horizontal stripes, however, will make your bottom half look even wider, so they're likely best avoided.
Hourglass Figure
Perhaps the most well-known and sought-after body type is the hourglass figure. This body type has a larger bust and hips in fairly equal proportions with a smaller waist.
Most models have an hourglass figure, and many clothing styles are designed to accentuate that body type. Generally, you'll want to dress an hourglass figure to follow the body's natural proportions.
An easy way to do this is to accentuate your waist with belted outfits, and high-waisted skirts and pants. Avoid baggy tops and dresses, as they can hang down from the chest and make you look shapeless.
Any solid color is a good choice for an hourglass figure, because they help create a clean line that shows off your body's natural shape. Small prints also work well, as they draw the eye without overwhelming.
If you want to look taller, an outfit with vertical stripes will help give you a longer, leaner silhouette. Horizontal stripes, on the other hand, help accentuate the bust and hips to highlight your curves.
To ensure your body's natural shape is highlighted, choose outfits and dresses that have a balanced look. A dress with flared sleeves and a ruffled bottom, for example, will ensure that both the top and bottom half of your body are in proportion.
Rectangular Figure
Taller women often tend to have rectangular figures. This body type is recognizable for its straight lines, with the bust, waist, and hips all having similar proportions.
The goal with a rectangular figure is creating the illusion of curves. Luckily, there are quite a few ways to do this depending on the outfit you choose.
The easiest way to create definition at the waist is to add a belt to your outfit. It will help to cinch in the waist and create a more curvy look.
Pairing brightly colored tops and bottoms with a dark belt around the waist is a simple and effective way to add shape to a rectangular frame.
When choosing shirts, any scoop-neck or V-neck top will help accentuate the chest and add definition to the upper body. And don't discount the benefits you can get from a good push-up bra, either!
For bottoms, choose boot-cut, flare, or wide-leg pants to help fill out the bottom half. Wrap dresses, A-line dresses, and other outfits that flare out at the waist are always a good choice for creating more body definition.
Don't be afraid to experiment with bold colors and prints to help give your outfit visual interest. A vibrant and coordinated top and bottom can balance the body and create the illusion of curves.
Inverted Triangle Figure
Women with an inverted triangle feature have the larger bust and defined waist of the hourglass figure, but narrower hips. Shorter women often have an inverted triangle figure.
As with the pear-shaped figure, the key to choosing clothes for an inverted triangle figure is balance. In this case, the goal is to minimize the upper body and draw attention to the lower half.
Skirts and pants with a flared silhouette are great for balancing the lower body and drawing the eye down. Dresses with a ruffled or pleated bottom half are a good choice as well, as they widen the hips and add volume.
For tops, avoid off-shoulder shirts and square necklines, as they'll tend to make your shoulders look even wider. Instead, choose V-neck or scoop-neck shirts in dark colors. Peplum tops are also a great option, since the flare at the waist helps add volume to the lower half.
Solid colors are the best option for tops when you want to create a balanced look, but a small print can work, too. Try to avoid tops that are heavily embellished or have an especially bold print, since all the attention will be drawn to the heavier top half of the body.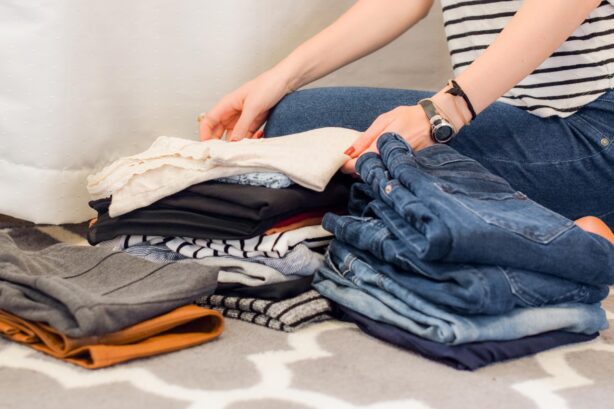 While knowing how to dress for different women's body types can be helpful, remember that there are no hard and fast rules when it comes to fashion.
If you find an outfit you love that makes you feel great every time you put it on, then it doesn't matter if it's the best choice for your figure or not!
So, don't be afraid to experiment and find a style that works for you, whether you're putting together the perfect mom wardrobe or new work outfits.
It doesn't matter if you follow every guideline for your body type, some of them, or none at all, because confidence is something that looks good on everyone!