The last year at Mommy Kat and Kids was packed with some amazing experiences, but it wasn't until I looked at each month of 2013 that I realized just how fabulous it truly was. Come check out some of my top adventures from 2013!
January
The year kicked off with a bang as I headed to the Ford NAIAS event in Detroit, Michigan. It was fascinating learning about the process of making an F-150 at the Deerbourne plant and exploring the fabulous Henry Ford museum.
After a night at Tech Shop learning about some of the newest innovations in Ford vehicles, it was time to head off to NAIAS to see the grand unveiling of the Ford Atlas truck and the rest of the auto show!
February
In February, the incredibly popular We Day event came to Saskatchewan for the first time, and I was so excited to be invited to attend along with Telus to capture the event. Meeting Martin Sheen and interviewing Hedley were both high points for me, but the real highlight was seeing how full of passion and dedication the youth audience was as founders Craig and Mark Keilburger challenged them to change the world.
March
In March I was chosen as a BlogWest 2013 Ambassador and in addition to helping promote this fabulous Western Canadian conference, I was able to present on one of my favourite topics, monetization, along with my good friend and fellow blogger Jody of Mommy Moment. The conference was so full of great information and I walked away with a renewed passion for blogging and so much more knowledge!
April
In April I was incredibly honoured to win the Award for Best Engagement at the 2013 Social Media Awards. This annual award celebration honours bloggers, businesses and charities in the social media sphere and I was beyond excited to be chosen as one of the winners. While I unfortunately wasn't able to get to the award ceremony in beautiful Victoria, it will be a must-attend event for me this year!
May
In May, my boys and I headed off on the press trip of my dreams when we were invited to the grand reopening of the Fantasyland Theatre and the kickoff of the Monstrous Summer Celebration at Disneyland, California! It was the first time for all three of us visiting a Disney resort and it was every bit as magical as I could have imagined.
The highlight of the trip for me was attending a press party in Fantasyland; the area was shut down to the public, every ride was running and my boys and I took full advantage of the experience to go on ride after ride in between dancing, snacking and socializing.
June
Shortly after returning from Disneyland, I was flying off again to attend the TBEX Conference in Toronto, Ontario. Not only did the conference give me a fabulous opportunity to network and connect with travel bloggers and tourism boards from around the world, the special excursions arranged by the City of Toronto let me do something I'd been wanting to do for years: explore the city of Toronto instead of just rushing in and out on business.
After a fun-filled tour of the Hockey Hall of Fame and the Art Gallery of Ontario, it was time for a few days of learning and connecting, complete with an Expedia Night with the Stars party. In honour off my recent trip, I went dressed as Minnie Mouse!
Then, at the end of the month, Travel Manitoba and Ford Canada teamed up to invite a select group of writers and bloggers on a fly-in fishing trip in Northern Manitoba. We enjoyed a scavenger hunt in the new Ford F-150 and Ford Explorer vehicles before flying off to Eagle Nest Lodge for just over two days of fishing and fun.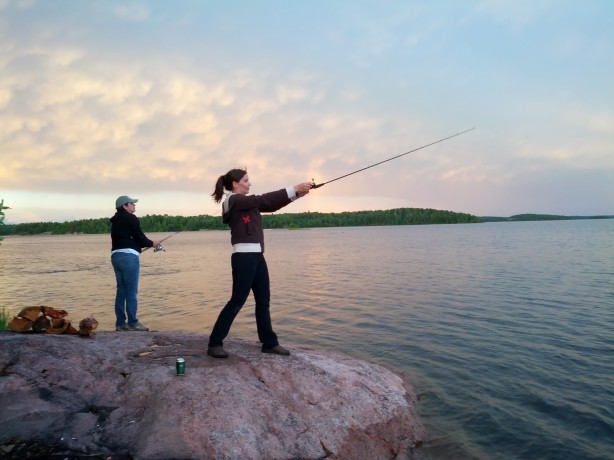 It was a great peek into Manitoba's fabulous natural beauty and gave me a new appreciation for the importance of getting away from the digital world every now and again!
July
In July, the fabulous BlogHer Conference took over Chicago, Illinois and at the last minute I decided to head off to the event that others have said every blogger should attend at least once and enjoy some fun.
As I indulged in fabulous parties, celebrity hairstyle experiences, exclusive lunches and free champagne, it was so much fun connecting with old friends, chatting with new ones and experiencing the full force and passion of the blogging industry in the United States!
August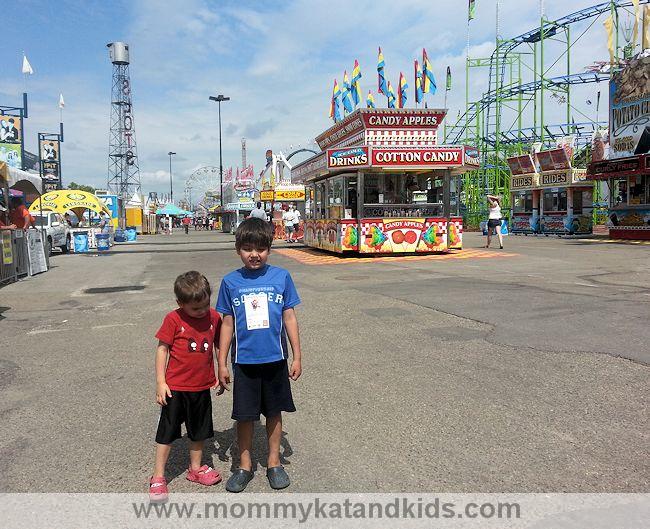 In August, the boys and I headed off on a weekend trip to Edmonton and thanks to the fabulous people at Tourism Edmonton, we had the chance to see for ourselves why the popular Alberta destination is often referred to as the City of Festivals. From experiencing delicacies at Taste of Edmonton to exploring the rides, games and exhibits at K-Days, there was plenty of fun family adventure to enjoy.
And of course, no trip to Edmonton would be complete without a trip to the West Edmonton Mall and the World Waterpark featuring the largest indoor wave pool! I didn't get quite as much time to shop as I would have liked, so a trip back may be on the agenda!
October
In October I once again headed back to Toronto when I was chosen as a community leader for my very favourite conference, BlissDom Canada! With so many fabulous Canadian women attending, it was a fun and fabulous experience and lived up to my expectations in every way. Closing keynote speaker Drew Dudley was a huge highlight of the event for me; I don't think I've ever both laughed and cried so much during a keynote speech before.
And the Great Canadian Outdoors Party with a performance by Jully Black was fun and inspirational in so many ways. Of course, spending time with my best blogging friends was a huge part of the appeal as well and made a great conference even better!
November
In November, We Day returned to Saskatchewan once more and I headed back to enjoy another afternoon of inspiration with Telus, though this time I brought my sister along as well! The incredible Michael Jordon was one of the speakers and was not only inspirational, but tons of fun too.
Craig and Mark Keilburger, as usual, had the 15,000 teens in attendance bursting with energy and a desire to make the world a better place by the time the event came to a close. The entertainment is always top-class, but it's the speeches that really get to me and remind me that one person has the power to make a big difference and ignite a spark for change that can start a bonfire.
Later in the month, my oldest son and I were invited to attend the Chevrolet Hockey Helmet Academy in Calgary to learn more about the Safe & Fun Hockey Program. It was an enlightening experience for me and I loved how this program emphasizes the importance of fun as well as safety! Later, Zackary had the chance to play a little hockey with Olympic Gold Medalist Cassie Campbell-Pascall!
December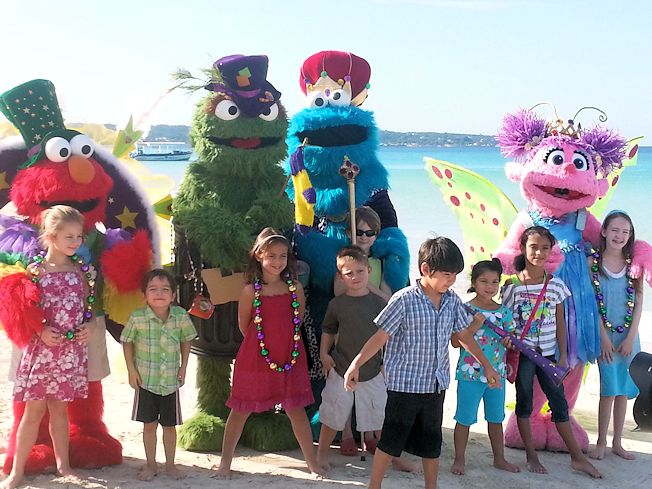 Just before the year came to a close, my boys and I were invited on another once-in-a-lifetime trip, this time to the beautiful Beaches Negril resort in Jamaica to see what Beaches Resorts are all about.
The trip showcased the all-inclusive experience of a Beaches Resort, celebrated the partnership with Sesame Street and let us experience the impact a Beaches resort makes on the community through the Sandals Foundation. Attending a Christmas party at a local school and watching my boys hand out presents to the students brought a tear to my eye!
Then it was back to the resort for fun, sun and plenty of time interacting with our favourite Sesame Street characters! Meeting Burt and Ernie may just have been the highlight of my year!
As incredible as 2013 was, I have to say that the new year is shaping up to be every bit as fabulous. With new partnerships with companies I love to, new opportunities and plans for new adventures, I have no doubt that 2014 will be every bit as much a year to remember as the past year has been and I can't wait to share it with you all!