As much as I love trying new and different foods and recipes, there's just no beating a classic.
And in our house, peanut butter has always been a classic choice for my recipes, whether I'm making a simple batch of peanut butter cookies or a savoury Thai Peanut Beef recipe.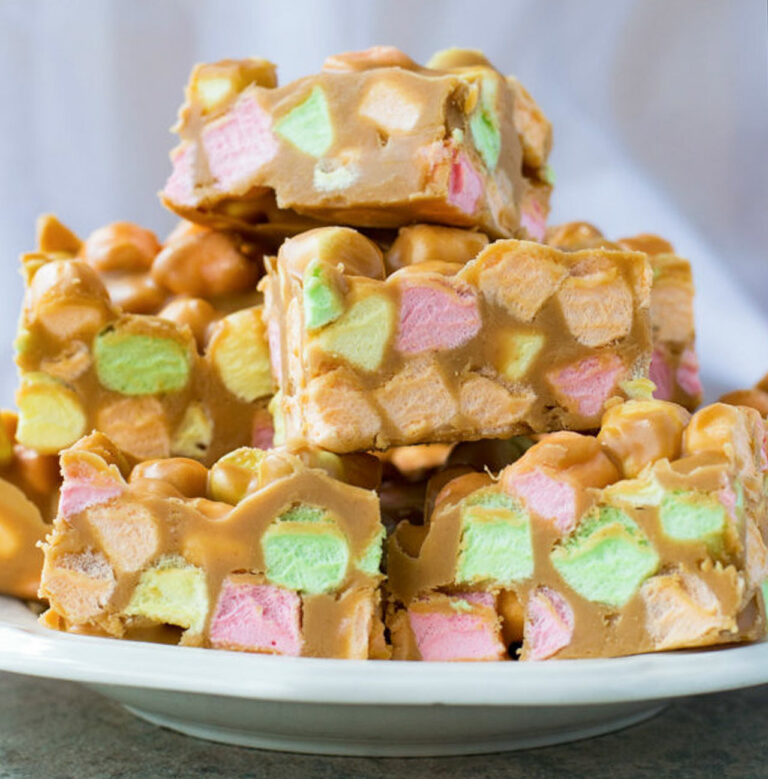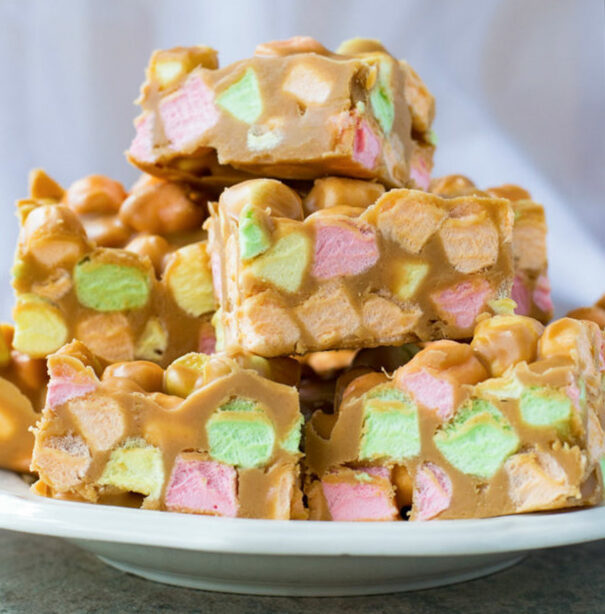 So, when I recently decided I was in a peanut butter mood, choosing just one recipe to make was no easy job!
But I was feeling nostalgic and craving something sweet, so I decided to make my very favourite easy Confetti Squares recipe featuring butterscotch chips and peanut butter!
I've always loved the flavor of butterscotch, but making it traditionally is a potentially tricky process that involves cooking butter, brown sugar, and corn syrup until thick.
Butterscotch chips make enjoying the flavor of butterscotch so much easier, and the taste is even better combined with creamy peanut butter.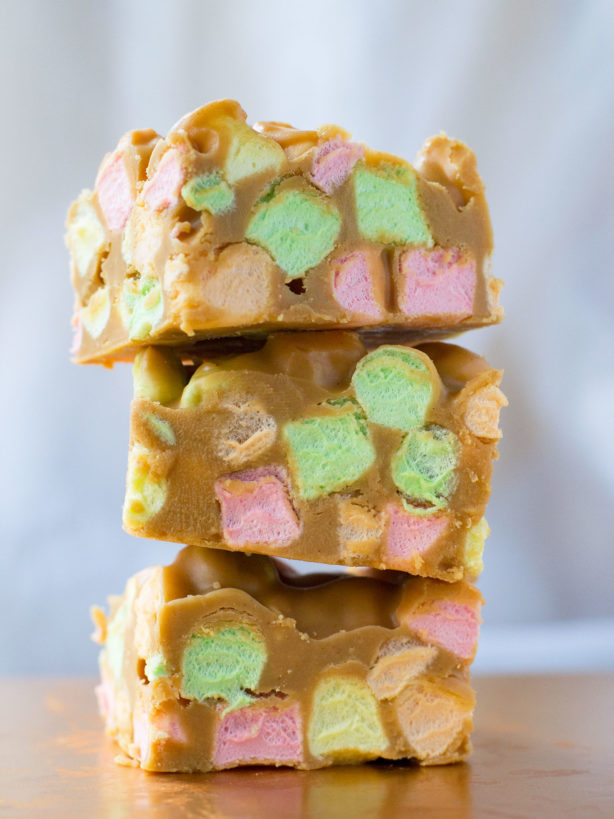 That's why, in my opinion, every bite of these smooth, dreamy butterscotch and peanut butter squares studded with rainbow marshmallows is pure bliss.
And when I was a child, they were the treat I was most excited to have when I went to my best friend's house (since my own mom didn't make them).
Of course, it didn't take me long to learn to make these practically-foolproof squares myself.
While I started out mixing nothing but marshmallows into my squares, I soon learned that just a half-cup or so of Rice Krispies made the squares even better. If you've made these before but haven't ever added Rice Krispies, do it now!
But even if you make this Butterscotch Confetti Squares recipe in its most classic form, you'll be amazed by how delicious four simple ingredients can be when they're combined.
What Are the Ingredients in Confetti Squares?
Like most easy recipes, there's no long list of ingredients when making these squares. All you'll need is:
Butter or margarine
Peanut butter
Butterscotch chips
Rainbow marshmallows
What Else Can I Add To Butterscotch Confetti Squares?
One of the best things about Butterscotch Confetti Squares is that they're easy to customize with all kinds of different mix-ins. Some of my personal favourites are:
Rice Krispies
Coconut
Crushed Potato Chips
Graham Cracker Crumbs
Convinced you need to make this right now? You're going to love how easy these tasty squares are!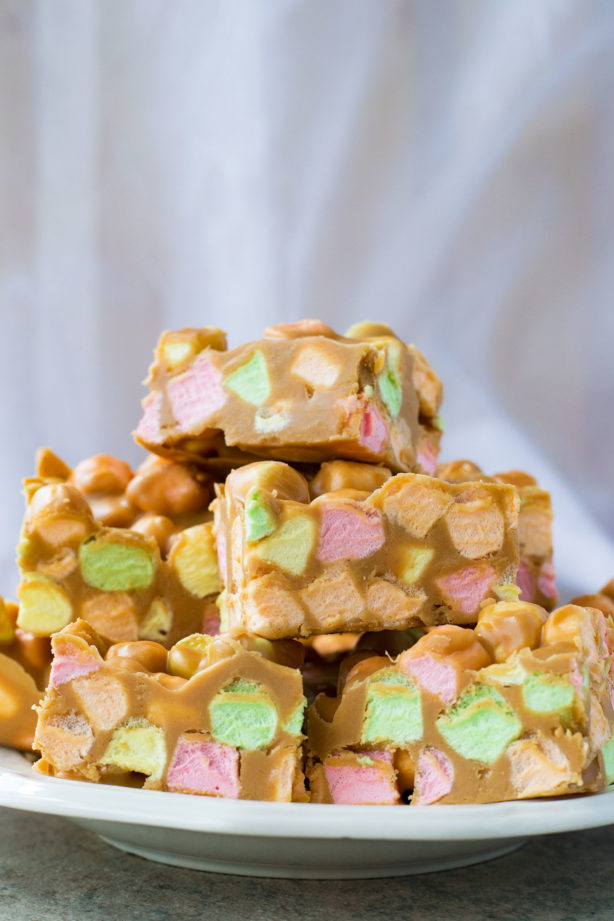 Confetti squares are one of those recipes that take virtually no skill to make. Heat the butter and peanut butter, then melt butterscotch chips into the two butters, mix well, and add marshmallows.
Just make sure that the melted butterscotch mixture isn't too hot when you stir in your marshmallows to avoid accidentally melting them.
And, of course, make sure to wait until the squares are completely cooled before cutting!
This is one of the hardest parts of making butterscotch confetti squares as far as I'm concerned, so I'll often pop the tray into the freezer so that the squares set quicker and I can dig in!
Looking for another great peanut butter recipe? Try my easy Chocolate Peanut Butter Squares for even more tasty peanut butter goodness.
With just a few minutes, a few ingredients and that trusty jar of peanut butter, you can create all kinds of irresistible goodies!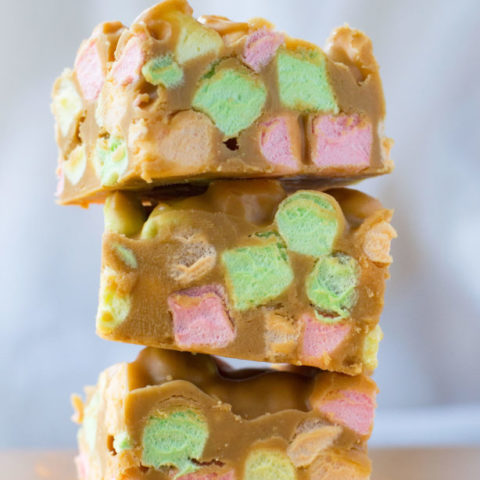 Butterscotch Confetti Squares
Total Time:
2 hours
5 minutes
These butterscotch and peanut butter marshmallow squares are a childhood favourite that couldn't be easier to make. Confetti squares take just four or five ingredients and a few minutes of preparation time to whip up!
Ingredients
1 cup peanut butter
1/2 cup butter
1 bag butterscotch chips
1 250g bag coloured mini marshmallows
1/2 cup Rice Krispies cereal, optional
Instructions
In large pot or large microwave-safe bowl, melt peanut butter and butter together over medium-low heat to medium heat, stirring with wooden spoon until smooth and blended.
Add butterscotch chips and stir until chips are melted.
Let cool for 2-3 minutes, or longer if needed, and gently stir in marshmallows.
Add Rice Krispies or other add-ins, if using, and mix well.
Spread or press mixture into 9x13" baking pan lined with parchment paper or greased aluminum foil.
Cool in refrigerator until firm and cut into squares
Recommended Products
As an Amazon Associate and member of other affiliate programs, I earn from qualifying purchases.
Nutrition Information:
Yield:

40
Serving Size:

40 Servings
Amount Per Serving:
Calories:

102
Total Fat:

7g
Saturated Fat:

3g
Trans Fat:

0g
Unsaturated Fat:

3g
Cholesterol:

6mg
Sodium:

60mg
Carbohydrates:

10g
Fiber:

0g
Sugar:

7g
Protein:

2g
Questions and Answers:
My marshmallows keep melting, what should I do?
If you have issues with melted marshmallows, consider melting the butter, peanut butter, and butterscotch chips as directed above in a medium saucepan, and then letting it cool for at least 10 minutes. Place marshmallows in a large bowl and pour the melted peanut butter mixture overtop once it's cooled to almost room temperature.
Can I make this in a 9×9″ square baking pan instead?
Absolutely! If you prefer taller squares, then you can use a smaller square baking dish instead of the larger 9×13″ baking pan. Keep in mind it will need to chill longer to set.
​When should I add dry ingredients like crushed potato chips, Rice Krispies, or graham crumbs?
I find that the best time to add any dry ingredients to these squares is right at the end, after the marshmallows and butterscotch mixture have been combined. Add 1/2 cup to 1 cup of your favorite add-in to the marshmallow mixture and stir until combined, then spread it in the prepared pan.
Can I add multiple dry ingredients to confetti squares?
Definitely! Just mix your add-ins together well in a medium bowl before adding to the butterscotch marshmallow mixture?
Can I use crunchy peanut butter instead of smooth peanut butter?
​Yes! Both crunchy peanut butter and smooth peanut butter work interchangeably in these peanut butter marshmallow bars, so use whichever one you prefer.