Planning a vacation is no simple task. Even the job of deciding where you want to go and how you're going to get there takes some effort and consideration.
And that's just the start! There's also planning needed to arrange activities you want to try, food to experience, and entertainment.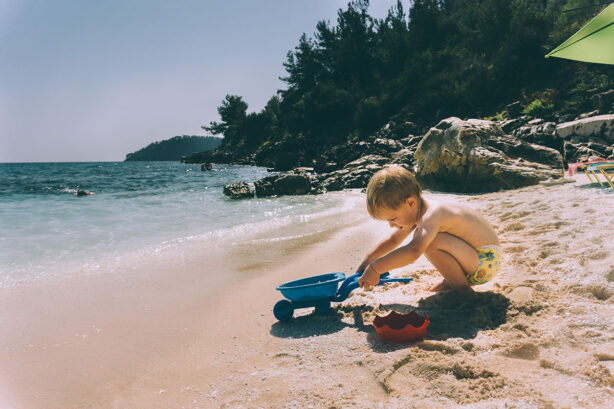 Finally, when the basics are worked out, it's time to deal with packing, getting your travel documents organized, and arranging insurance and an emergency plan. No wonder planning a trip can be so overwhelming!
But luckily, if you take your time and work step-by-step, the process can be much easier.
To get started, consider these 7 vacation planning tips that will help you get ready for everything from a weekend getaway to a month-long vacation with as little stress as possible.
Pack Only the Essentials
It may seem like one of the more obvious vacation planning tips, but packing only the essentials on any trip can make the whole process much smoother.
Overpacking is not only annoying and inconvenient once you arrive, (you have to lug around a heavy suitcase everywhere you go), it can also make you more likely to become a victim of theft.
It can also be expensive, especially if you're flying, since planes charge extra baggage fees for checked luggage and oversized items.
So, before you start packing, sit down and make a vacation packing list of everything you'll need for your trip. Then, decide if there's anything non-essential you can remove from that list.
Remember that you can always buy anything you forget once you're at your destination.
Invest In Quality Travel Gear
If you're going to be doing a lot of traveling, it's worth investing in some quality travel gear. This may include things like a good suitcase, a comfortable backpack, and a neck pillow.
Yes, high quality travel items can be a bit expensive, but it's definitely worth the investment. Cheap luggage is more likely to break or fall apart, and you don't want that to happen while you're in the middle of your trip.
Even if you're only going for a short weekend getaway, investing in a good quality backpack can make a world of difference. There are many great travel backpacks for women and men available that are both stylish and functional, for a relatively reasonable price.
And investing in a good neck pillow and travel blanket will make all the difference on those long flights or car rides.
The best part is that most travel gear is a one-time purchase that will last you for years, so spending a little more can be well worth it.
Make Copies of Your Important Documents
No matter how careful you are when you travel, there's always the chance that important travel documents could get lost or stolen.
That's why having copies of your documents is so important. Make sure to include your passport, driver's license, birth certificate, insurance cards, etc.
Keep one set of the copies with you when you travel, and leave another set at home with a trusted friend or family member. That way, if you lose anything while you're on your trip, you'll have a backup.
It's also a good idea to email yourself scanned copies of these documents as well. That way, you can access them from anywhere in the world if you need to.
And if you're traveling with young children, don't forget to make copies of their birth certificates, passports, and any necessary travel permission letters as well.
Not having these documents can cause a lot of issues, especially if you're trying to cross international borders, so you'll want to always be ready with backups.
Get Travel Insurance
While travel insurance isn't always considered essential, especially on short trips, having it can save a lot of potential hassles! This is especially important if you're traveling overseas or to a country with less-than-ideal medical facilities.
Travel insurance will help cover the cost of any medical care you might need while you're away from home, and may also provide coverage for things like lost luggage, canceled flights, and more.
Keep in mind that many good travel credit cards offer comprehensive travel insurance as one of their benefits, so see if your own card includes insurance already.
Just be sure to read the fine print so you know exactly what's covered before you buy a policy.
And if you have any preexisting medical conditions, let the insurance company know beforehand so they can tailor a policy specifically for you.
Research Your Destination
One of the most fun things about planning a trip is learning about your destination before you go! This will likely include things like finding out what the locals are like, what kind of weather to expect, and what the must-see attractions are.
The more you know about your destination, the easier it will be to navigate and enjoy your trip. There are plenty of resources available to help you research your destination, so take advantage of them.
Start by reading travel guides or searching for information online. And don't forget to ask your friends and family members if they have any advice or recommendations, too!
Many times, they'll be able to share insider tips that you won't find in any guidebook and give advice on activities that you may be especially interested in.
Set Up Auto-Payments and Bill Reminders
One of the last things you want to worry about while you're on vacation is paying your bills. So, before you leave, be sure to set up auto-payments for all your recurring bills.
This way, you won't have to worry about them while you're away. And if any bills can't be paid automatically, create bill reminders so you remember to deal with them as soon as you get home.
This will help ensure that all your bills are paid on time and avoid any late fees or penalties. And if you run a business, plan for those f you are running a business, be sure to set up a system so that it can run without you while you're away.
This will help you relax and enjoy your vacation knowing that everything at home is taken care of.
Avoid Traveling During Peak Times
If at all possible, try to avoid traveling during peak times. Often, peak times include holidays, summer break, and other busy times of the year.
Not only are flights and hotels more expensive during these times, but airports and attractions are also more crowded.
Instead, planning your trip for a less popular time of the year can help you save money and avoid crowds.
Depending on your destination, this may be as simple as traveling mid-week instead of over a weekend. Other times, it may mean traveling when the weather is a little more unpredictable.
But the savings can make it well worth the sacrifice, especially considering that hotels, flights, and attractions are all often offered at cheaper prices during off-season times!
Planning a vacation definitely takes some work, but it's a lot of fun, too! By following these vacation planning tips, you can ensure that your trip goes smoothly and that you have a great time.
Just remember to take your time planning, research your destination thoroughly, and pack with consideration.
And of course, get ready to kick back, relax, and enjoy that vacation!